Regular price
Sale price
$99.99
Unit price
per
Sale
Sold out

Orders Over $49 Ship Free

Secure Payments

30 Day Risk Free Purchase
Secure & Trusted Checkout with
LIMITED STOCK DUE TO HIGH DEMAND!
Over 30,000 Happy Customers
100% All Natural Ingredients
Suitable for everyone
Made in USA
Embrace lung health with every drink! Introducing our Fresh Lung Detox Tea, a safe and effective natural remedy for your respiratory wellness. Crafted with a harmonious blend of herbal treasures that supports detoxification and easy breathing, with ingredients that promote optimal lung function. This tea is rich with Antioxidant and immune-boosting elements such as Mullein, Sea Moss, American Ginseng, Elderberry plus more. 
Ingredients: American Ginseng, Elderberry, Thyme, Sea Moss, Mullein Leaf, Ginger and Rooibos

Read more
CLOSE DESCRIPTION
"I'm on my second bottle of Fresh Lungs. I find I'm using my inhaler less and hoping I'll be able to stop altogether. Thus far, I'm very satisfied!!"
View full details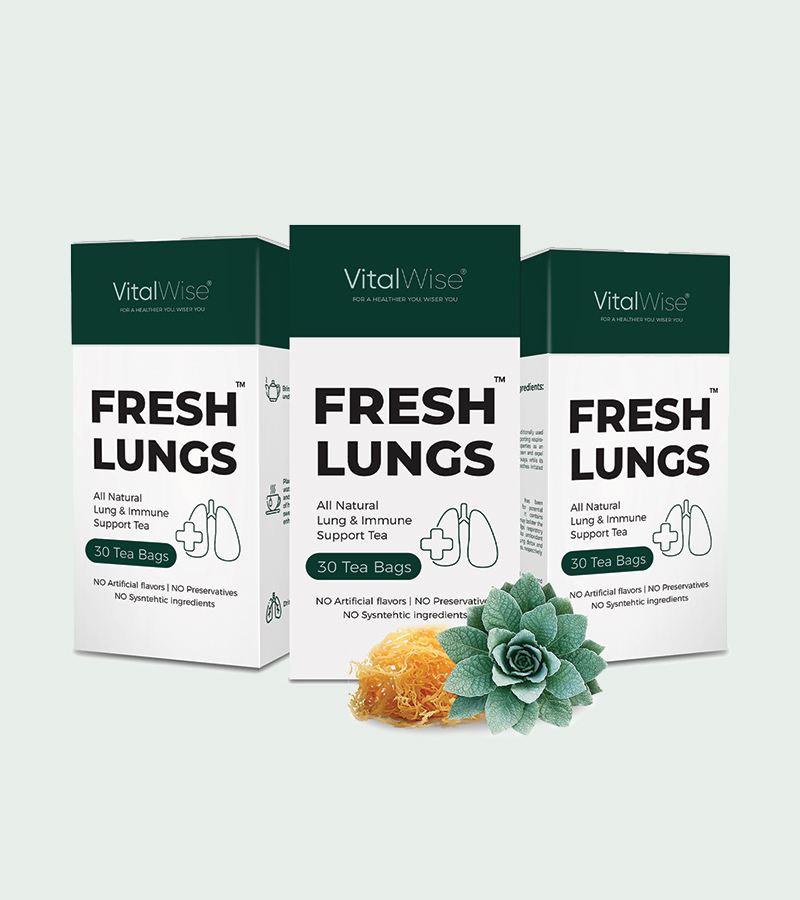 How does Vitalwise subscription work?
For the best results, supplements are most effective when taken consistently on a daily basis. Our 30-day subscription enables you to establish a routine, ensuring you never miss a day. You have the flexibility to pause, delay, or cancel your subscription at any time via your account portal.
Can I pause or cancel my Vitalwise subscription?
Feel free to pause, delay, or cancel your subscription whenever you need to by using your account portal.
How does Vitalwise's Fresh Lungs promote and maintain lung and respiratory well-being?
Vitalwise Fresh Lungs addresses respiratory symptoms and their underlying causes through a comprehensive 4-step lung care mechanism: cleansing, restoring, strengthening, and protecting.

This specialized supplement is designed to combat the effects of urban pollutants on lung health. It helps by reducing inflammation and supporting the immune system, promoting the removal of pollutants from the airways, and ultimately restoring and strengthening respiratory health.
Is there an optimal time to take the Fresh Lungs supplement?
We recommend taking one capsule of Vitalwise Fresh Lungs daily, preferably after breakfast.
Are your products available for purchase in retail stores or pharmacies?
At present, our products are exclusively available online. This allows us to reduce retail expenses, enabling us to provide cost savings directly to you. What's even more convenient is that we offer FREE worldwide shipping, eliminating the need for you to travel.
Is Vitalwise Fresh Lungs safe to take?
Vitalwise Fresh Lungs is entirely natural and boasts a centuries-old history of safe usage. It has been scientifically evaluated, and there are no known toxicities or adverse side effects associated with its use, ensuring your safety as you incorporate it into your wellness routine.